News & Media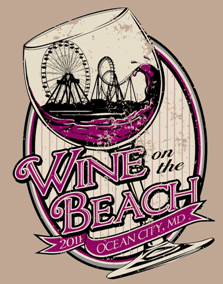 Wine on the Beach 2023
Sept 8 & 9, 2023 at the Inlet parking lot in Ocean City, Maryland

Wine on the Beach, the beloved annual summer festival celebrating the regional industry, will be returning to the Ocean City Inlet September 8-9. As always, the festival will feature unique artisans and crafters, popular Delmarva food specialties and flip flop favorites performing on the oceanfront stage.

Picnicking in the sand, with bottles of wines and a group of friends and family, has always been a major attraction of this festival. Listening to music, dancing and singing are two natural extensions of the merriment.

This year, perennial favorites Bird Dog and the Road Kings will bring back their rockabilly rolling to the beach festival both days. They will be followed Friday by misspent youth, a popular party rock band that energizes docks and piers throughout Maryland and the mid-Atlantic. Saturday, Salisbury classic rock band Tranzfusion will provide the stage entertainment after Bird Dog.

Opening the festival and setting the stage for all the fun that follows is Larry Lay, who performed 25 years as resident pianist/singer in the Middleton Tavern Piano Bar in Annapolis. "No better way to get any party started than singing with Larry Lay," said manager Chris Nokes of the entertainer who plays everything from old standards to modern pop. "The wine helps, but is certainly not necessary to get I to the spirit with Larry Lay," she added.

"We are delighted with our music lineup for this year's Wine on the Beach," Ms Nokes added. "We offer an array of music styles and tastes, with something for everyone to enjoy as they picnic on the beach."